South Bend Lathe 16 Rebuild Manual and Parts Kit (All Models)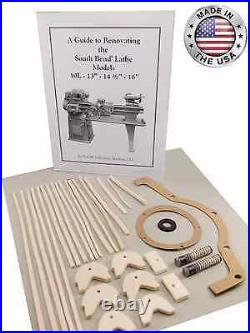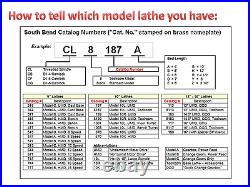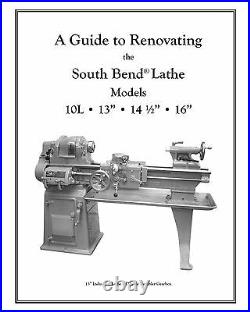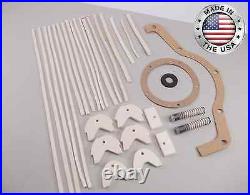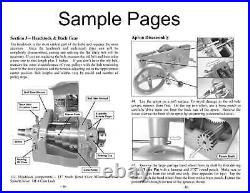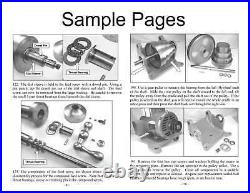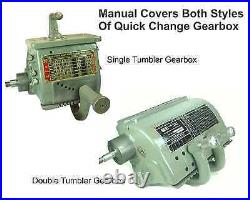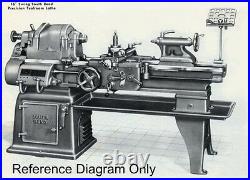 Rebuild Manual and Kit for South Bend Lathe 16 Model. Made in the USA by ILION Industrial Services, LLC. Important: This combination kit is for the 16" or 16/24" model only. If you are contemplating cleaning up that old South Bend Lathe sitting in your garage, this combination kit is what you will need to get the job done. The South Bend 16 is an industrial grade lathe which is quite often found in industrial settings and in school shops. The manual included with this kit "A Guide to Renovating the South Bend Lathe" is a new publication, 156 pages in length, soft cover, and is fully illustrated with almost 450 B&W photographs plus step-by-step instructions geared specifically to the 10L, 13", 14.5" and 16 industrial lathes. For close-up views of sample pages from the book, see the additional photos included above. As you will notice, this is not a fuzzy Xerox reprint of an older manual that you've probably seen before. Even though South Bend ceased production of these fine quality these lathes years ago, there are still thousands of servicable lathes out there sitting in home shops, small businesses, schools and machinery dealers. The details include the sequence for disassembling, cleaning, reassembling and adjusting the critical components of the industrial series of lathes. The basic design of the industrial series of lathes was exactly the same except for the scale of the lathe so the 10L and 13 lathes are primarily used for demonstration purposes in the manual. The manual covers both the single tumbler and double tumbler gearboxes as shown among the photos above. Additional infomation is included for evaluating and purchasing a used SBL if you are not lucky enough to already own one and we have added a section on refinishing industrial machinery and how to handle special fasteners like taper pins. The typeface of the manual is printed two points larger than normal for those of us who prefer to work at the bench without reading glasses. The instructions are very straight forward and no prior machinery rennovation experience is required.
The manual also includes a list of resources for vintage SBL owners as well as parts references, tool requirements, lubrication guides and material specifications. When it comes to refurbishing your machine, this manual plus the assortment of gaskets, wicks, wipers and oil control felts will provide all that is required to help put your lathe back into its original condition when you go to reassemble it. These aftermarket consumable parts are made by ILION Industrial Services in the USA and were designed to provide and retain adequate lubrication in critical parts of the lathe while at the same time acting as a trap for dirt, chips and sludge. They should be replaced at regular intervals as opposed to trying to clean and reuse the old ones.
The capillary oil wicks we provide for the headstock are made from the highest grade tempered spring steel, CNC wound and stress relieved to provide long service life. The lower wicking material is long-strand virgin wool and the cap wick is high quality hard grey felt so you will not find a better quality replacement wick anywhere. The remaining apron wicks, gearbox wicks, wipers, and oil control plugs are all hard white felt, precision die cut for a consistent close fit on most all versions of the Southbend 16 lathe that were produced in large quantities from the early 1940s through the 1980s. Weve done all of the work for you.
While the manual also covers similar models of the South Bend industrial lathes this combination kit is only for the 16" or 16/24" model. (The 16/24" is just a standard 16" lathe with riser blocks added beneath the headstock, tailstock and compound to increase the swing of the lathe). If you have a 13", a 9" workshop lathe a model 10k or a model 10L (or "heavy 10") please see our other listings for those manuals and kits as they are completely different. Topics Included in the Manual. "A Guide to Renovating the South Bend Lathe - 16" Model.
Introduction and overview of the different South Bend Industrial lathe models and features. Tips on evaluating and purchasing a used South Bend Lathe. Machine Prep and Sequence of Operations. Disassembly & assembly of the Gear Train and Gear Box. Disassembly & assembly of the Apron, Saddle & Compound.
Disassembly & assembly of the Headstock. Disassembly & assembly of the Underneath Drive Unit. Proper adjustment of the main spindle bearings. Adjustment procedures for the low speed back gear. Tips and procedures for removing taper pins.
Hints and Tips for stripping and refinishing your lathe. Lists of materials and sources available for lathe refurbishing. Parts sources, books and on line information resources. Lubrication instructions and lubricant references. Included in the 16 Lathe Parts Kit. 2 Precision Spring Loaded Capillary oil wicks 2.125 long. 4 Die cut bed wipers for the 16 tailstock (2 Vee and 2 Flat wipers). Die cut rubber bumper washer for the tailstock quill screw. Die Cut Apron Oil Trough Gasket. Die cut Round gasket for spindle protector ring. 4 Die Cut Way Wipers for the Saddle. Round felt wick for the Reversing Gears. Various rectangual felts for shaft lubrication. Complete set of Felts for both the single tumbler and double tumbler Quick Change Gear Box (Shafts, Bosses, and Oil Passages). If you have any questions, please dont hesitate to contact me. I will be happy to answer any questions. Any information or product offered through this manual is done so in good faith in order to assist vintage machinery owners and is not sanctioned by South Bend Lathe, Inc. As OEM information, parts or products. The item "South Bend Lathe 16 Rebuild Manual and Parts Kit (All Models)" is in sale since Monday, March 3, 2014. This item is in the category "Business & Industrial\CNC, Metalworking & Manufacturing\Metalworking Equipment\Metalworking Lathes". The seller is "stevewb" and is located in Durham, North Carolina. This item can be shipped worldwide.
Model: South Bend 16 Lathe
MPN: SBLK16
Brand: South Bend Lathe
Type: Lathe