For Whirlpool, Gold Refrigerator Water Inlet Valve Parts # NP5150106PAZ740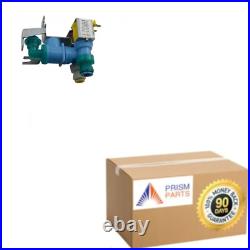 For Whirlpool Refrigerator Water Inlet Valve Part # NP5150106PAZ740. Fits the following models and some others.
Use CTRL F to search for yours. Not the part you need? You can browse all parts for your appliance by entering ONLY the model number from your appliance on the page linked below. GB2SHTXTB00 GB2SHTXTB01 GB2SHTXTB11 GB2SHTXTL01 GB2SHTXTL11 GB2SHTXTQ00 GB2SHTXTQ01 GB2SHTXTQ11 GB2SHTXTS00 GB2SHTXTS01 GB2SHTXTS11 GB2SHTXTT00 GB2SHTXTT01 GB2SHTXTT11 GB9SHDXPB02 GB9SHDXPB12 GB9SHDXPQ02 GB9SHDXPQ12 GB9SHDXPS02 GB9SHDXPS12 GB9SHDXVB00 GB9SHDXVQ00 GB9SHDXVS00 GB9SHKXMQ02 GB9SHKXMQ03 GB9SHKXMQ12 GB9SHKXMQ13 GX5FHTXTB00 GX5FHTXTB01 GX5FHTXTB11 GX5FHTXTL01 GX5FHTXTL11 GX5FHTXTQ00 GX5FHTXTQ01 GX5FHTXTQ11 GX5FHTXTS00 GX5FHTXTS01 GX5FHTXTS11 GX5FHTXTT00 GX5FHTXTT01 GX5FHTXTT11 GX5FHTXVA00 GX5FHTXVB00 GX5FHTXVB02 GX5FHTXVQ00 GX5FHTXVY00 GX5SHTXTB00 GX5SHTXTB01 GX5SHTXTB11 GX5SHTXTL01 GX5SHTXTL11 GX5SHTXTQ00 GX5SHTXTQ01 GX5SHTXTQ11 GX5SHTXTS00 GX5SHTXTS01 GX5SHTXTS11 GX5SHTXTT00 GX5SHTXTT01 GX5SHTXTT11 GX5SHTXVA00 GX5SHTXVB00 GX5SHTXVB02 GX5SHTXVQ00 GX5SHTXVY00 WP67006531 AP6010515 67006531 1187394 12544118 PS11743697.