Award Winner Built Hasegawa 1/12 Yamaha YZR500 (OWA8) Sonauto +PE/Metal Fork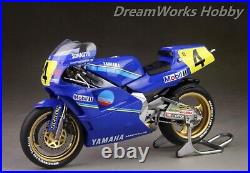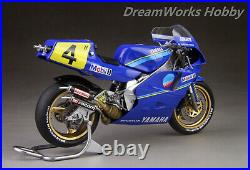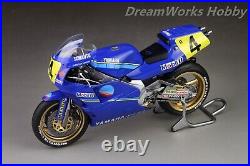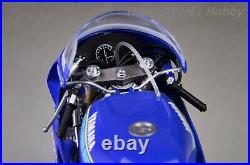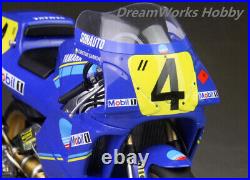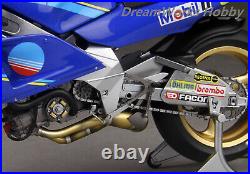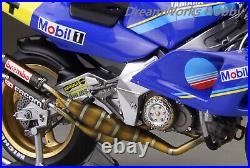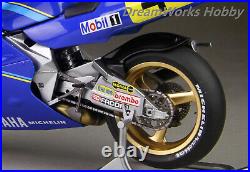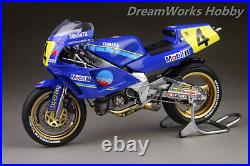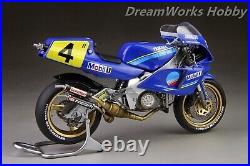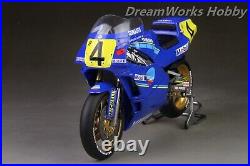 Yamaha YZR500 (OWA8) Sonauto Yamaha 1989 Sport Bike. In Stock Ready To Go. Award-winner built and painted 1/12 scale YZR500 (OWA8) assembly high-quality model kit of Yamaha YZR500 OWA8.
Beautiful Sonauto blue color scheme. Add on carbon fiber detail set. Top building quality with crisp details overall and very high standard accuracy on each part.
Add on metal and clear parts. Rubber tire with disc brake and more add-on details.
The detail on the entire kit is outstanding and crisp. Add on Top Studio metal front frok upgrade kit. Add on carbon fiber decal for high-end finish.
Metal screws and bolt for attaching the wheels, front fork and swingarm and frame/engine assembly. Stretches of hose for wiring and cable. Brilliant livery with sponsor logos. Transparent windshield with cluster details. All hand controls and plumbing are attached with great detail. Chain with great teeth and hole details. Cowlings can be attached/detached using precision-made screws to showcase accurately reproduced internal details.
Rear suspension features a realistic nut fastener. Two well-made racing synthetic rubber tires with an authentic feel. Shock absorber with great details. All metal suspension springs, nuts and more. Exhaust pipes with great carbon fiber finish.
Buffing and sanding to remove mold seam. Base color with primer and putty for better surface detail. Add clear paint for good finishing on Beautiful decals and markings applying. Wash to enhance the surface detail increase the appearance of depth including engine, bolt head and more. Brushing to emphasize and highlighting texture with edge.
Filter out the contrast and blend color effects. Polish chrome parts and polish all glossy body parts for realistic effects.
Three coats of shining paintwork and apply three layers of clear coat and more on real-life finishing. The biggest technical advance of the 0WA8 was the introduction of a high-tech system to record detailed settings for the running conditions of the machine throughout a run. With its ability to record data about engine rpm, bike speed, suspension stroke, steering angle during turns, combustion chamber temperature and detonation, this system provided accurate numerical information that could be shared by the engineers, mechanics, developers and riders to clearly grasp performance and help in determining directions for settings. After winning his third championship title in 1988, W. Rainey rode this machine to finish the season ranked 2nd in the GP500, followed by C.
In the All Japan Championships, N. Fujiwara grabbed his third consecutive season title on this machine.